UFCW Local 1776KS Women's Network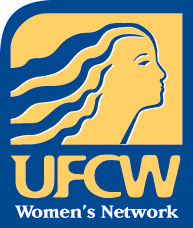 CLICK HERE TO REGISTER FOR OUR NEXT VIRTUAL MEETING ON MARCH 14th at 4 PM
The UFCW 1776KS Women's Network works to motivate and encourage women to become active in our Local Union so they can contribute toward building and strengthening the UFCW. More than half of the UFCW's 1.3 million members are women- and we are a powerful resource for our Union.
The active participation of women members in UFCW 1776KS enhances our strength at the bargaining table, in organizing campaigns, and in the political arena.
The Women's Network welcomes all UFCW sisters and brothers who want to help create a brighter, more secure future for working families. We invite you to join us.
If you are interested in participating, please contact Carla Dorsey at carladorsey69@icloud.com OR Marcy Kelly at 610-940-1847 or mkelly@ufcw1776.org.
Resources for Members:
Register to Vote
Click here to register in Pennsylvania
Click here to register in Ohio
Click here to register in West Virginia
Click here to register in New Jersey
Click here to register in New York
Love Over Addiction
The UFCW Women's Network has partnered with Love Over Addiction, an online recovery community for women, to help UFCW members who love someone that suffers from addiction. During this health crisis, alcohol abuse is on the rise and has led to spikes in domestic violence and even suicide. We want to do everything we can to do help one another through this time.
The Love Over Addiction program provides access to videos, audio recordings, private self-help workshops and more so it's convenient for the person seeking help. Regular access to this program costs $300, and with the Women's Network sponsorship this benefit is offered to UFCW members for only $20. Text WOMENSNETWORK to (720) 903-1276 for more information.
We remind women in need that they are not alone and are encouraged to take advantage of this new valuable resource. You can learn more about this important program here.
Women's Resource Center- Southeast Pennsylvania
For more than 40 years, the Women's Resource Center (WRC) has helped women and girls in southeastern Pennsylvania successfully navigate life's transitions and inspire others to do the same. By providing resources, tools, and support for today, we create hope for tomorrow. The Women's Resource Center offers help with legal assistance, counseling, basic needs, housing, abuse, and mental health issues.
Resource Help Line- 701-314-HELP (4357)
https://womensresourcecenter.net/
Mental Health Consultants (MHC)
Help is readily available for you and your family members who may suffer from substance abuse, emotional issues or psychological problems. You will be seen by experienced professionals who will give you the best possible care and attention.
Close monitoring, continued follow-up and ongoing support are included, assuring you of a positive treatment experience.
MHC is a confidential information and referral service designed to match individuals in need of assistance with the appropriate health care professionals.
Call MHC at 800-255-3081.
Women's Law Project
Established in 1974, the Women's Law Project is a state-based public interest legal center devoted to protecting and expanding the rights of women, girls and LGBTQ people in Pennsylvania and beyond. The Women's Law Project provides free information and guidance on many issues including those related to reproductive health, paid leave, domestic and sexual violence, sexual harassment, and sex and gender discrimination in schools, the workplace, and other institutions.
https://www.womenslawproject.org/need-help/
Women's Shelters Directory
WomenShelters.org is all about providing easy to find shelter listings for women in need. We want to make it simple and easy to use for women who need help quick.
We provide listings of emergency shelters, transitional housing, family shelters, residential treatment centers, and other residential services for women.
https://www.womenshelters.org/
Page Last Updated: Mar 14, 2022 (10:49:02)