Turn to Union Made Chocolate This Holiday Season!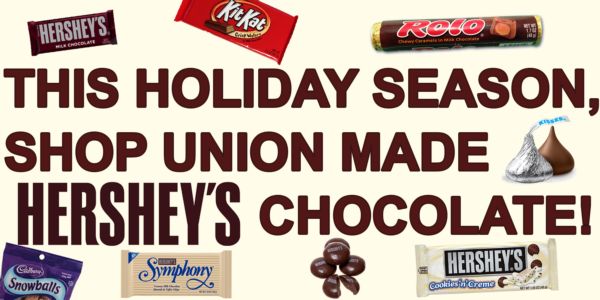 Craving for your chocolate fix? Support your brothers and sisters who make union-made candy. Members of UFCW Local 1776 and BCTGM (Chocolate Workers) Local 464 proudly make union made Hershey candies right here in Pennsylvania.
Don't be misled by misinformation that Hershey has outsourced all of its products. FACT: UFCW Local 1776 members continue to manufacture many Hershey products in Hazleton, as do members of the BCTGM Local 464 in Hershey. Below is a complete listing of union-made Hershey products. Don't let rumors go unanswered. Remember, an injury to one is an injury to all!
UFCW Local 1776, Hershey Hazleton Plant
Hershey Extra Dark Chocolate Bar

Kit Kat Snack Size

Caramello Bar

Cadbury Mini Eggs

Cadbury Fruit & Nut Bar

Cadbury Roast Almond Bar

Cadbury Royal Dark Bar

Hershey Candy Cane Bar

(seasonal)

Hershey Seasonal Shapes

(Bunnies and Santas)

Cadbury Fall Harvest Balls

Hershey Canadian Milk, Dark and

Almond Bars

Kit Kat Mini Minis

Hershey Candy Coated Eggs

Cadbury Dairy Milk Bar

Snack-size Cadbury Bars

Kit Kat Minis

Hersheyettes

Hershey Cookies 'N' Creme

Hershey Drops

Hershey Symphony Almond Toffee

Hershey Milk Chocolate Bar

Cadbury Snowballs

Hershey Eggies
BCTGM Local 464, Hershey Plant (West)
Hershey Milk Chocolate Bars:
1. Standard size
2. King size
3. Giant size

4. Snack size

Hershey Milk with Almond Bars:
1. Standard size
2. King size
3. Giant size
4. Snack Size

Hershey Special Dark Bars:
1. King size
2. Giant size
3. Snack Size

Hershey Kisses:
1. Kisses Milk Chocolate
2. Kiss with Almond
3. Carmel Kiss
4. Cookie and Cream Kisses

Hershey Kisses (continued):
5. Hershey Hugs
6. Cherry Cordials
7. Candy Cane Kisses
8. Pumpkin Spice
9. Special Dark Kisses

Hershey Syrups:
1. Hershey Chocolate Syrup
2. Special Dark Syrup
3. Carmel Syrup
4. Vitamin Fortified Chocolate Syrup
5. Strawberry Syrup
6. Strawberry Sugar-Free Syrup
7. Lite Chocolate Syrup
8. Sugar-Free Chocolate Syrup

Other Hershey Products:
1. Shapes (Santas and Bunnies)
2. Hershey Nuggets
3. Rolo