Important Message to all UFCW Local 1776KS Members
Updated On: Jul 200, 2020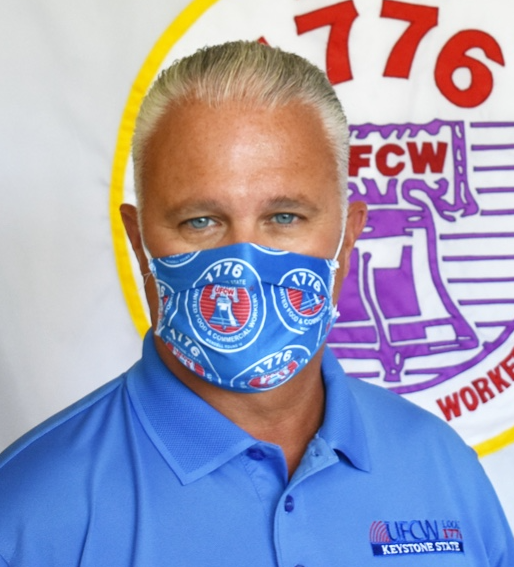 Dear UFCW Local 1776KS Member,
On Monday, July 20
th
, please join working people across the country in an act of solidarity by taking a knee, raising your fist, or holding a moment of silence at noon. This action should only be observed where permitted and if you are at work, with the proper notice given to your employer.
This moment of solidarity is being organized in solidarity with #StrikeForBlackLives, a coalition in support of workers trying to join together and form a union to achieve better wages and working conditions.
I want to share this quote with you from UFCW International President Marc Perrone which perfectly captures why this is a movement that we need to support:
"The COVID-19 pandemic has changed our lives, revealing the deep cracks and divides that have long existed in our system. For months, thousands of people have worked without enough PPE, or in some cases paid sick time …. This moment of crisis has created new opportunities for connection, for building the path forward together, and for declaring that we will not return to "normal." This Movement has brought together workers of all races to exercise our power together, we will put our racial and economic justice demands at the center of the story and demonstrate the power of people organizing and joining together in unions."
There are a number of rallies and demonstrations scheduled across our jurisdiction,
if you click here
you can see if there's an event taking place near you. If you do decide to join one of these public events, please remember to wear a mask and practice social distancing.
I have said many times and continue to say that our diversity at UFCW Local 1776KS is one of our greatest strengths.
As a union, as a community, and as a nation we are only stronger when we stand together.
Estimado miembro del UFCW Local 1776KS,
El lunes 20 de julio, únase a los trabajadores de todo el país en un acto de solidaridad al arrodillarse, levantar el puño o guardar un momento de silencio al mediodía. Esta acción solo debe observarse donde esté permitido y si está en el trabajo, con la debida notificación a su empleador.
Este momento de solidaridad se está organizando en solidaridad con #StrikeForBlackLives, una coalición en apoyo de los trabajadores que intentan unirse y formar un sindicato para lograr mejores salarios y condiciones de trabajo.
Quiero compartir esta cita del presidente de UFCW International, Marc Perrone, que captura perfectamente por qué este es un movimiento que debemos apoyar:
"La pandemia de COVID-19 ha cambiado nuestras vidas, revelando las profundas grietas y divisiones que han existido durante mucho tiempo en nuestro sistema. Durante meses, miles de personas han trabajado sin suficiente EPP, o en algunos casos sin pagado tiempo de enfermedad ... Este momento de crisis ha creado nuevas oportunidades para la conexión, para construir juntos el camino hacia adelante y para declarar que no volveremos a la "normalidad". Este Movimiento ha reunido a trabajadores de todas las razas para ejercer nuestro poder juntos, colocaremos nuestras demandas de justicia racial y económica en el centro de la historia y demostraremos el poder de las personas que se organizan y se unen en sindicatos ".
Hay una serie de manifestaciones y manifestaciones programadas en toda nuestra jurisdicción,
si hace clic aquí
puede ver si hay un evento cerca de usted. Si decide unirse a uno de estos eventos públicos, recuerde usar una máscara y practicar el distanciamiento social.
Lo he dicho muchas veces y sigo diciendo que nuestra diversidad en UFCW Local 1776KS es una de nuestras mayores fortalezas.
?Como sindicato, como comunidad, y como nación, solo somos más fuertes cuando nos mantenemos unidos.